Peyronie´s disease Extender
Andropeyronie® is a Peyronie´s disease extender to treat curved penis. This medical device is FDA approved, Clinically tested and US patented. The penis extender is based on Penile Traction Therapy, which corrects a 50% of penile curvature.
Price from $99 / €99 / 89£ / 149 CA$-AU$
1 Million satisfied users
7,000 urologists recommend us

What is a Peyronie´s disease extender?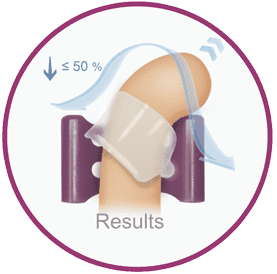 Andropeyronie® is a medical penis extender specifically developed to improve curved penis and Peyronie's disease. Andropeyronie® is a penile traction device, which uses the new patented tech Androsupport and Androcomfort.
Andropeyronie® device uses Androcomfort® band system with additional cushion and a silicone ring Androring® which give more comfort and protection to the area of the penis that is fixed to the upper support.
Penile traction therapy will help the patient achieve a reduction of penis curvature by up to 50% as well as an increase of penis length of up to 1,5 cm (0.6") in erect and flaccid state.
Andropeyronie® is a patented penis extender specifically developed to treat curved or bent penises and Peyronie's disease. The device is fixed onto the penis easily and it can be worn while walking, sitting, doing physically undemanding work, etc.
Why Andropeyronie Extender?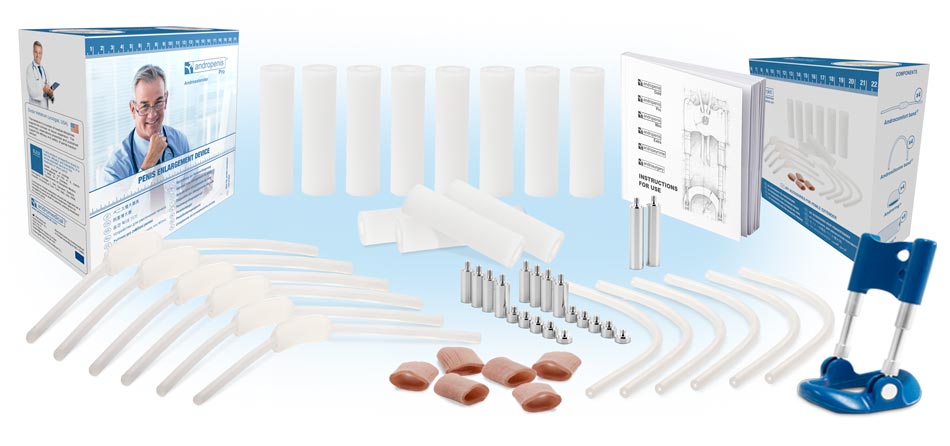 Content of PRO
1 Androextender + 1 Androcomfort kit = 1 Extender + 20 Androrod + 6 Androcomfort + 4 Androsilicone + 6 Androtop-comfort + 4 Androtop-silicone + 6 Androring + Instructions booklet

$99 / €99 / 89£ / 149 AU$-CA$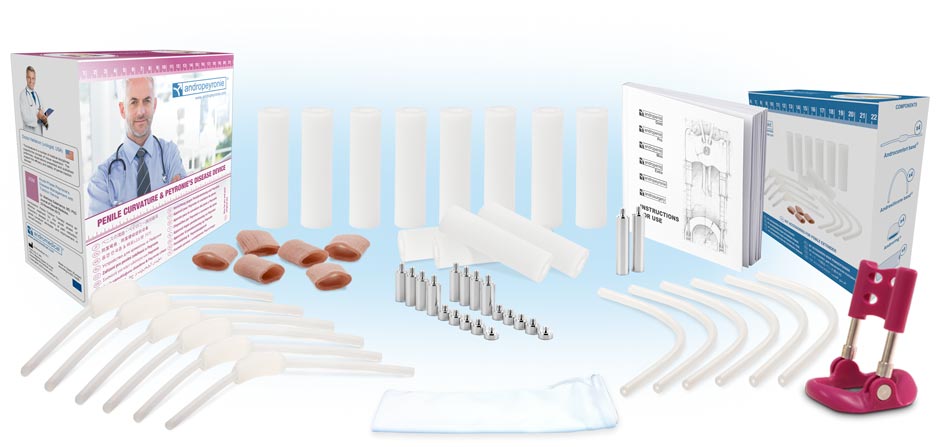 Content of GOLD
1 Andropeyronie + 1 Androcomfort kit = 1 Extender + 1 ANDROSUPPORT (for Peyronie´s disease) + 20 Androrod + 6 Androcomfort + 6 Androsilicone + 6 Androtop-comfort + 6 Androtop-silicone + 6 Androring + Instructions booklet

$149 / €149 / 129£ / 199 AU$-CA$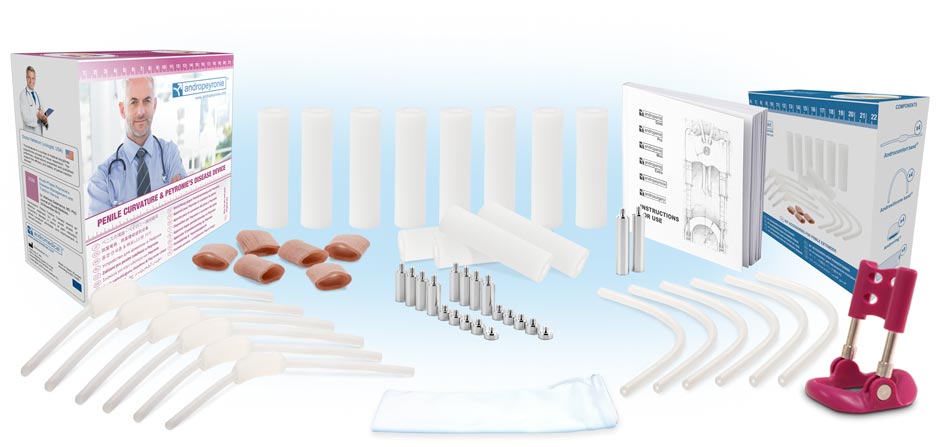 Content of PREMIUM
1 Andropeyronie + 1 Androcomfort kit + 1 Androrods kit = 1 Extender + 1 ANDROSUPPORT (for Peyronie´s disease) + 31 Androrod + 6 Androcomfort + 6 Androsilicone + 6 Androtop-comfort + 6 Androtop-silicone + 6 Androring + 1 Androruler + 1 Androbag + 1 Sexual Heath ebook + Instructions booklet

$199 / €199 / 159£ / 249 AU$-CA$
Andropeyronie® is Certified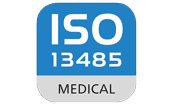 ANDROMEDICAL is ISO 9001:2008 of Quality Certified, ISO13485:2012 of Medical Devices Certified and ISO 10993 of Biocompatibility.
Andropeyronie is Clinically Tested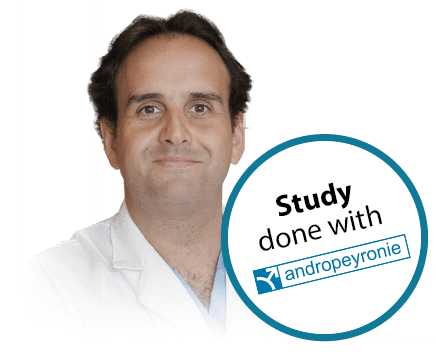 "Penile traction therapy appears an efficient therapy for the acute phase of Peyronie's disease in regards to penile curvature decrease, pain reduction and enhancement in sexual function." Read Study
Who Recommends Andropeyronie®?
2 Months Money back Guarantee
Discreet and fast shipping
Warehouses in USA and Europe

1,000,000 Satisfied Users in 20 years
A simple penile curvature correction with a Peyronie´s disease extender. Penile traction therapy supports Andropeyronie
Questions about Peyronie extenders
What is Andropeyronie?
Andropeyronie is a medical penis extender device specifically designed to aid with curved or bent penises and Peyronie´s disease. It helps in reducing the natural penile curvature or curvatures caused by Peyronie's illness or injury. At the same time, it induces the growth of penis in length and girth (JSM).
How come I haven't heard about this therapy before?
Until recently the only possible treatment for penile curvatures was expensive invasive and aggressive surgery which usually meant additional reduction in penis length.
How does a penile traction device work?
The device continuously pulls the penis in the direction opposite the curvature to correct it. At the same time it stimulates the penis to grow (JSM).
How does the device make the penis grow?
This happens because of the capacity of tissues to react to a continuous traction impulse. The application of traction provokes the cells inside the penis to divide and multiply (JSM).
Does it help prevent penis shortening?
Peyronie´s disease frequently creates penis reducing as a result of degeneration otherwise dealt with. Andropeyronie clinical extender device not just induces adjustment of penis curvature caused normally, by injury or by Peyronie's condition, but also stops penis reducing as well as promotes penis development (JSM).
Where else is this principle of penile traction therapy used?
This grip concept is made use of in surgeries for cells development (regeneration of brand-new cells to cover issues, burns as well as loss of hair locations) or in orthopedics (extension of bones or healing of damaged bones). It is likewise made use of in stretching body components in various societies worldwide for lengthening necks, lips, earlobes, etc.
What is the procedure of the treatment?
Andropeyronie® should be used with the penis in flaccid state. It is put on the penis as well as attached as though the better traction force is used on the side of the penis which is opposite the curvature so the gadget pulls the penis right into a straight position, attaining improvement of the rounded penis. It should be used between 8 as well as 9 hours each day, relaxing when needed every two hrs.
What is the ideal age for the treatment?
From 18 years onward. The treatment can be done by older men as well. Our research also included men of 60 and 80 years of age and it showed traction stimulates growth of tissues at any age.
Are the results durable?
Yes, results are durable and do not diminish with time.
Will the stretching make the penis thinner?
No, the device stimulates division of cells inside the penis and so the penis grows in all directions – length as well as girth.
Use of Peyronie´s disease Extenders
Will I feel pain or discomfort?
No, the extender doesn't cause any pain. There might be slight sensation of discomfort for the first few days, until the penis gets accustomed to the device.
Should I remove the device when I go to the toilet?
Yes, when going to the toilet you should remove it.
How can I use the product without people seeing it?
The device is very discreet and almost unnoticeable. We still recommend people to wear loose clothing so the device will not be noticed.
Can I use traction device while I am sleeping?
As people make uncontrolled movements while sleeping, we do not recommend using Andropeyronie® while sleeping because of danger of injury to the penis. Furthermore, while sleeping you can't make the necessary periodical rests from the treatment.
What happens if my penis becomes erect?
It depends on the erection level. If it is a soft erection, you will feel a little pressure but it should be painless. If it is hard, the extender will loosen but it will stay in its place. If you feel discomfort, remove the device until the erection passes.
Should I wear any special clothes?
We advise people to wear loose clothing, as the device might show through tight clothes.
What about if I spend a lot of time seated?
There is no problem; we only recommend making breaks more frequently.
If the device comes in contact with water will it rust?
This product cannot rust as it is made of materials that cannot rust. We recommend the device is cleaned once a week with mild soap and water.
It is necessary to grease or lubricate the device?
It is recommended to put a little bit of oil between the 4th and the 5th part as explained in the instructions manual.
Does the penile traction device need batteries?
This product is totally mechanical. It does not require batteries or electricity.
What is the incidence and prevalence of Peyronie´s disease?
Peyronie´s disease prevalence for adult men is 5%, and incidence in USA of 120,000 men every year. In UK there are 150,000 men with Peyronie´s condition, and NHS doesn´t pay the $5,000 of the implant. The 47% of patients are motivated to seek Peyronie´s disease treatment. The 85% of men seek treatment within 3 months of diagnosis and the average time patients live with Peyronie´s illness is 3.5 years.
What is the urologists´opinion of Peyronie´s treatments?
The 67% of urologists are very knowledgeable about Peyronie´s condition, with a low satisfaction with invasive treatments. Now 1,000 urologists treat Peyronie´s disease invasively and 7,000 urologists treat it non-invasively
Blog about Peyronie´s disease
What is the Peyronie's disease? It affects approximately 1 in every 16 men (6%). But most urologists suspect that it is under-reported, and may affect as many as 1 in 10 men (10%). It can occur at any age, although it is seen mostly in the middle‑aged. It...
read more
Psychological aspects in patients with Peyronie's disease
Abstract
To understand the psychological process of the behaviors, motivations, and thoughts of a patient with Peyronie's disease, we must describe the patient's social, personal, and cultural environment.
1. Introduction to Peyronie's disease
At any given time a lesion is produced in the penis that consists of the formation of keloidal tissue under the skin forming fibrotic plates that generate retraction of the penile tissues. When the patient has an erection, the penis curves and before the tension formed by the plates appears a pain that is sometimes intense and unpleasant for the patient. It is common for males who suffer from this ailment to refer to the sexual act as unsatisfactory, painful, annoying and sometimes not viable, with time another associated disorder adheres, erectile dysfunction.
In this article we will explain the cognitive-behavioral processes that occur in the majority of patients with this ailment.
Peyronie's disease is a disease that accounts for 3% of the world's population. The formation of plaques can appear suddenly, after the rupture of fibers of the penis after sexual intercourse. As a consequence of the injury to the penis, an over-cicatrisation occurs, forming fibrotic tissue in the form of plaques.
At other times patients experience collagen growth under the skin forming these plaques. In both cases, the silver will produce an important retraction in a part of the penis forming a curved penis when the penis is erect.
At first the patient will experience with concern the appearance of these plaques on the penis.
In the medical consultation, during the interview, many of the patients admit to suffering from this ailment some time ago, but out of fear, shame, ignorance or waiting for their problem to be resolved without the help of a specialist, they go to the doctor some time later.
2. Psychological behaviors associated with Peyronie's disease
Sexuality in most societies is a taboo subject, there is a tendency to cover, avoid or use euphemisms to refer to it. If you don't talk about a problem, it doesn't exist. Culturally, nudity is not well seen, and in that environment, where genitals are avoided, many men do not have a reference to discern whether a curvature of the penis is in a range of normality. As a consequence of this, people easily ask about a socially visible problem naturally, for example, if the trigger finger injury occurs (also caused by a fibrosis of the tissues in the finger) and in a short time they go to a doctor. However, if the injury occurs to the penis, fear and embarrassment will make it unlikely that you will verbalize your problem to another person. When a problem affects an individual and this for different reasons inhibits communication about the problem begins to arise ruminative thoughts, which often increase the problem and prevents a solution to it. Origin of the ruminative thoughts of the patient with Peyronie
3. Cognitive responses in Peyronie's condition
Concern about how your sexual partner(s) evaluate you, or the person who can tell you about your illness and compare to other men:
Any man will be better than me in bed
– I'm sure her previous boyfriend liked it better.
– they're gonna laugh at me for having a crooked penis.
Does this happen to other men or does it just happen to me?
I'm less of a man.
Thoughts referring to one's own uselessness:
You can't satisfy my partner.
-My wife is going to leave me
No woman will want to be with me.
-In intercourse my penis is going to start to hurt and then I'm going to give a gatillazo
He'll think I don't like him anymore.
-I'm going to do it wrong, I'm not going to be up to it.
Thoughts related to Peyronie's disease and its possible consequences:
This plaque on the penis can be something more dangerous (cancerophobia).
The doctor may not be able to find a solution
-They'll have to amputate my penis
-I'm going to break my penis altogether in the next intercourse
Thoughts referring to the feeling of haste, of wanting you to finish what you are doing.
I hope she gets to the climax quickly and finishes her or me.
the weekend is coming and I will have to have sex
As the week progresses toward the weekend I feel more distressed
4. Physiological and motor responses in Peyronie's Disease
Physiological Answers
Pain
Tension in the tissues
Nuisance
Difficulty maintaining an erection
– Erectile dysfunction
Motor Answers
Continuous search for information on the Internet
ruminative thoughts of whether you tell your problem to friends or to a doctor.
Alcohol intake
Analgesics intake
Triggers of stress and anguish in these patients.
5. History and external stimuli in Peyronie's disease
Situations where there is a possibility of being evaluated
sexual encounters
wardrobe
medical consultation
Situations directly related to the disease
Going out in pairs and talking about sexuality or marriage
Going out to meet women
The appearance of penile curvature information in Media.
Erection is an Uncontrolled Response generated by the Autonomous System. The body responds unconsciously to a particular stimulus(s), in this case generating an erection.
6. Negative sexual reinforcement in patients with Peyronie
The patient quickly begins to identify those situations that generate anxiety and worry related to sexual activity that causes a physiological response 1 in a painful erection, another physiological response 2 in erectile dysfunction and a 3rd physiological response of inability to maintain intercourse.
After the repeated and sequential appearance of the 3 physiological responses, there is a response of frustration, fear of being evaluated negatively and rejection, mainly of their sexual partner.
After the introduction of these responses, as they are repeated, the patient will experience increasingly anxious and unpleasant situations related to intercourse and sexuality, also generalizing to relationships.
It is at this moment when the patient begins to worry about the so-called Discriminative Stimuli (ED), those stimuli that predict the appearance of embarrassing and anxiogenic situations related to maintaining mainly sexual relations but also in occasions of affective nature.
7. Psychological discriminative stimuli in Peyronie's disease.
These discriminatory stimuli can be:
A couple dinner, if you have a girlfriend who are alone at home or at hers, go to a bar where you can introduce a woman, go to the movies accompanied and watch an amatory sequence, that appears information on some topic of sexuality on television being accompanied by someone known and may arise a conversation about that topic.
Anxiogenic situations and stimuli are generalized, so that the discriminative stimulus itself produces discomfort in the patient, for example watching a film accompanied.
With time, escape responses are installed, Negative Reinforcements (Rz-) before uncomfortable situations, especially before possible sexual relations, because they cause intense pain or strong and prolonged tension when the penis is erect. These responses of escape or flight before the possible appearance of a sexual situation produce pleasure to the patient and therefore end up instaurándose in their behavior.
Finally, a suspicious, avoidant personality begins to assimilate within the individual, which will affect both his sexual and social life, making him a less social and more defensive person.
As he loses sexual, affective or social gratifications, he starts a cognitive process of frustration and anxiety that in some cases can lead to aggressiveness.

Androshopping LLC
16192 Coastal Highway, Lewes, DE-19958, USA
EIN, 300841570
Andromedical S.L.
6 Gran Vía, 4th, 28013 Madrid, Spain
VAT: ESB82545096