For penile curvature correction and Peyronie's disease
From €139 / $149 / 129£ / CA$199 / AU$229
7,000 urologists recommend us
Reduces penile curvature in 60% and the pain.
Increases penis length 1,5 cm or 0.6″.
Gets safer results and improves sexual function.
What is a penile traction device?
Penile traction therapy will help the patient achieve a reduction of penis curvature by up to 60% as well as an increase of penis length of up to 1,5 cm or 0.6" in erect and flaccid state.
Andropeyronie® is a patented penile traction device specifically developed to treat curved or bent penises and Peyronie's disease. The device is fixed onto the penis easily and it can be worn while walking, sitting, doing physically undemanding work, etc.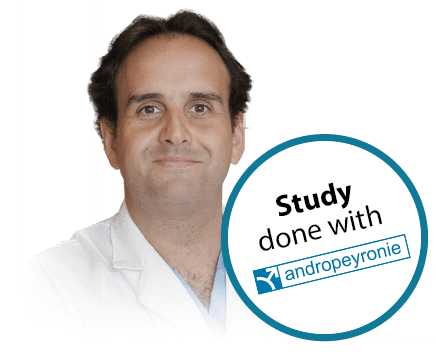 Andropeyronie® is Clinically Tested
The Journal of Sexual Medicine
"Penile traction therapy appears an efficient therapy for the acute phase of Peyronie's disease in regards to penile curvature decrease, pain reduction and enhancement in sexual function."
"Three studies reported on the effects of penile traction for 4.5 to 5.0 hours a day and reported curvature improvements (studies done with ANDROPENIS and ANDROPEYRONIE)"
"Use penile traction devices and vacuum devices to reduce penile deformity and increase penile length"
Andropeyronie can be used with Andropharma men's supplements as combined therapy. Andropharma® Curvature helps in the therapy of Peyronie's disease.
Peyronie's disease (PD) is an accumulation of collagen in the penis that forms a scar, producing a deformity and pain in the erectile state. This disease affects between 1%-8% of men. The ANDROMEDICAL laboratory announces the great potential of a new combined therapy...
read more

Andromedical LLC
16192 Coastal Highway, Lewes, DE-19958, USA
EIN, 300841570
Andromedical S.L.
6 Gran Vía, 4th, 28013 Madrid, Spain
VAT: ESB82545096