Andropeyronie® is a medical device specifically designed to aid with bent or curved penis. It helps reducing natural penile curvatures or curvatures caused by Peyronie's disease or injury. At the same time it induces the growth of penis in length and girth.
When this device is used constantly and the user is dedicated, the penis curvature correction can be improved. Furthermore, Andropeyronie® induces growth of the penis thanks to the natural response of the tissue to traction which causes the division of cells in the penis (Clinical studies).
Andropeyronie® is composed of a plastic base ring, two metal shafts with internal springs, and an upper plastic support with a silicone band.
Androcomfort, comfort daily use band
Androdynamo, new sliding & traction system
Androrods, customize your device
Androsupport, customize your curvature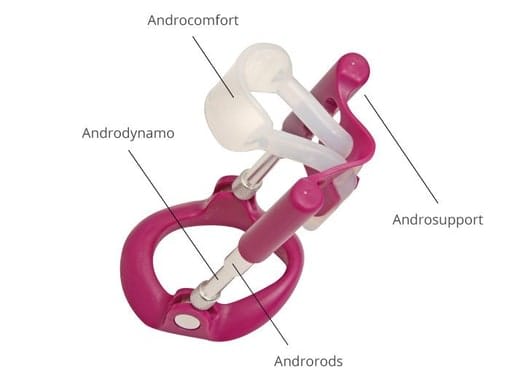 Discreet and fast shipping
Warehouses in USA and Europe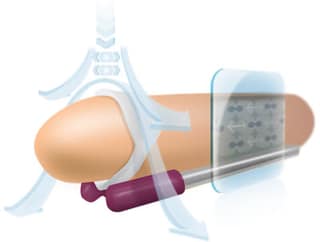 Andropeyronie® is comfortable
The upper support called Androsupport® was adapted for treating the penile curvature and Peyronie's disease. Its special shape and additional holes in the upper support part of the device allow the fixation of penis with any type and degree of curvature.
Andropeyronie® device also uses Androcomfort® band system with additional cushion and a silicone ring Androring® which give more comfort and protection to the area of the penis that is fixed to the upper support.
Traction versus Colla genase
Andropeyronie
Colla genase
Method
Medical device
Injections
Price
$99
$27,000
Use
6 months
8 injections
Curvature correction
60%
33%
No cheap devices of poor quality